Social Innovation & Global Health Conferences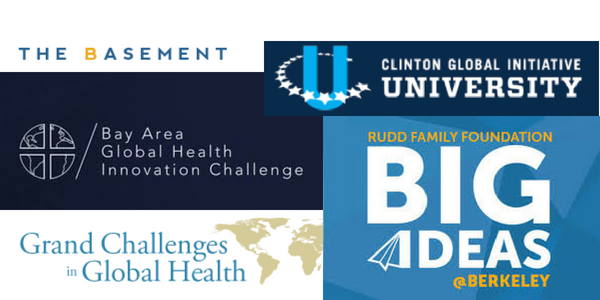 Social Innovation Opportunities
Make your own positive impact on the world!
Would you like to help develop a Social Innovation idea?
Do you have an idea to put into action?
Would you like to enter your idea in a Social Innovation Challenge to receive funding?
If you answered yes to any of these questions, see the Current Students Social Innovation Resource Page for more information about how to get involved with social innovation projects and programs and finding networking and funding resources available at UC San Diego and beyond.
Resources 
Clinton Global Initiative University (CGIU) is a gathering of nearly 1,200 students, youth organizations, and topic experts that come together to discuss and develop innovative solutions to pressing global challenges. Students make a "Commitment to Action," a concrete plan that addresses a pressing challenge in one of CGI U's five focus areas.
CGI U seeks students with new and innovative project ideas, and detailed, specific plans of action that produce measurable results.
UC San Diego is part of the Clinton Global Initiative University Network, a consortium of colleges and universities that support, mentor, and provide $10,000 in seed funding to leading student innovators and entrepreneurs on their respective campuses. Ryan Crawford, a staff member in the Center for Student Involvement's Community Service area, is UC San Diego's Liaison for the CGIU Network. E-mail Ryan Crawford at rcrawford@ucsd.edu to learn more.
The Social Innovation Fund is a partnership between UCSD's Office of Research Affairs, Office of Student Life, Office of Equity, Diversity and Inclusion, and Council of Provosts to promote, guide, and support student-driven ideas that address specific challenges in the local or national community and abroad.
Funding is available for individual and group commitments that combine theoretical understanding, applied skills, and experiential learning as agents of change. Commitments are eligible for funding up to $3,500.
More funding resources can be found here. 
Grand Challenges fosters innovation in global health research.
The Bill & Melinda Gates Foundation has committed $100 million to encourage scientists worldwide to expand the pipeline of ideas to fight our greatest health challenges.
Big Ideas @ Berkeley is an annual innovation contest that provides funding, funding, support, and encouragement to interdisciplinary teams of UC undergraduate and graduate students who have "big ideas".
The challenge for the Global Health category is to describe an action-oriented, inter-disciplinary project that would help alleviate a global health concern among low-resource communities. Proposals submitted to this category should:
Demonstrate an evidence of a widespread health concern faced by low-income populations or low-resource communities, and;
Develop a system, plan, or technology that addresses this problem that is both culturally appropriate within the target communities, and appropriate for low-resource settings.
Examples of proposals include (but are not limited to):
A medical innovation project that promotes effective diagnosis or treatment of a specific physical or mental illness.
A public health containment effort or surveillance technique to address infectious disease epidemics.
A public health prevention project that raises awareness about how to reduce the risk of contracting illness among at-risk populations.
An economic, public policy or advocacy-based initiative that aims to reduce barriers to accessing effective health services in underserved communities.
Big Ideas @ Berkeley spans the course of an entire academic year and includes the following milestones:
August: Contest Begins

August to October: Information Sessions, Workshops, Networking Events

November: Pre-proposal Deadline (5 pages)

December: Finalists Announced

January to March: Mentorship Period

Mid-March: Full Proposal Deadline (15 pages)

April: Winners Announced
The Basement provides creative innovation space, mentorship, entrepreneurship programming and resources in support of UC San Diego's innovation, entrepreneurial and change maker focus.
In the spirit of UC San Diego's entrepreneurial DNA, The Basement brings together students, and alumni, ideas and inspiration, earnest ambition, and real-world experience.
All students can gather and be nurtured, and with alumni support and visionary leadership, they can grow companies and social innovation ventures that become the fabric of our community, creating jobs and inspiring a culture of ingenuity and impact with help from The Basement.
All university students – regardless of college or department affiliation can access the resource. Community-facing entrepreneurship workshops and programs offered by The Basement provide opportunities for alumni and community members to get involved. Professionals are invited to volunteer, join The Basement network or attend open event programs.
The Bay Area Global Health Innovation Challenge is an annual competition founded by the University of California, Berkeley, Stanford University, and the HealthRoots Foundation for Global Health, which sponsors the $10,000 HealthRoots Grand Prize.
This core partnership has now expanded to include the UCSF Institute for Global Health Sciences and UC Davis. We offer student teams from all schools, disciplines, and degree levels (undergrad through post-doc) the opportunity to present their ideas for low-cost, high-impact, and scalable global health solutions to world leaders in health, tech, design, and impact investing. More details here.
Are you living/attending school in California, under the age of 28, and have prototyped a program, product, or service with positive social impact? If you've answered YES to all of the above, apply for the Westly Prize for Young Innovators of California for your chance to win $40,000!
Global Health Conferences
Attending Global Health conferences is an excellent way to network and get exposure to professionals in the field. Students can attend conferences and present their own work, this is a great resume booster! Students whose work is accepted to present can apply for funding from the Global Health Program by submitting the application below, and are encouraged to find additional funding opportunities.
Global Health Program Funding Request for Conferences
The Global Health Program encourages outstanding Global Health students to present their research papers and projects at educational and professional conferences.  Current Global Health majors and minors may apply for up to $200.00 to support conference travel.
Applicants must be current UC San Diego Global Health student at the time of the conference/event attendance, proof that the paper/project has been accepted by the conference must be included with the application, and students must apply for, and be approved for, funding before attending the conference.
Please complete the funding request form here.
Please note that funding will be awarded via reimbursement; receipts must be submitted to the Global Health Program after the applicant attends the conference.
Requirements for students receiving funding:
Complete a blog post for the Global Health blog about their experience

Prior to travel (one month before):
Funding Resources
Sixth College Conference Funding Support
Sixth College students can apply for up to $250 in funding support per student. These funds must be used to subsidize travel and registration expenses associated with attending conferences.
Undergraduate Research Scholarships
If attending a conference to showcase research, consider applying for an undergraduate research scholarship through UCSD. Use the scholarship to work on your project and help fund your project's showcasing.