Global Health Senior Thesis Resources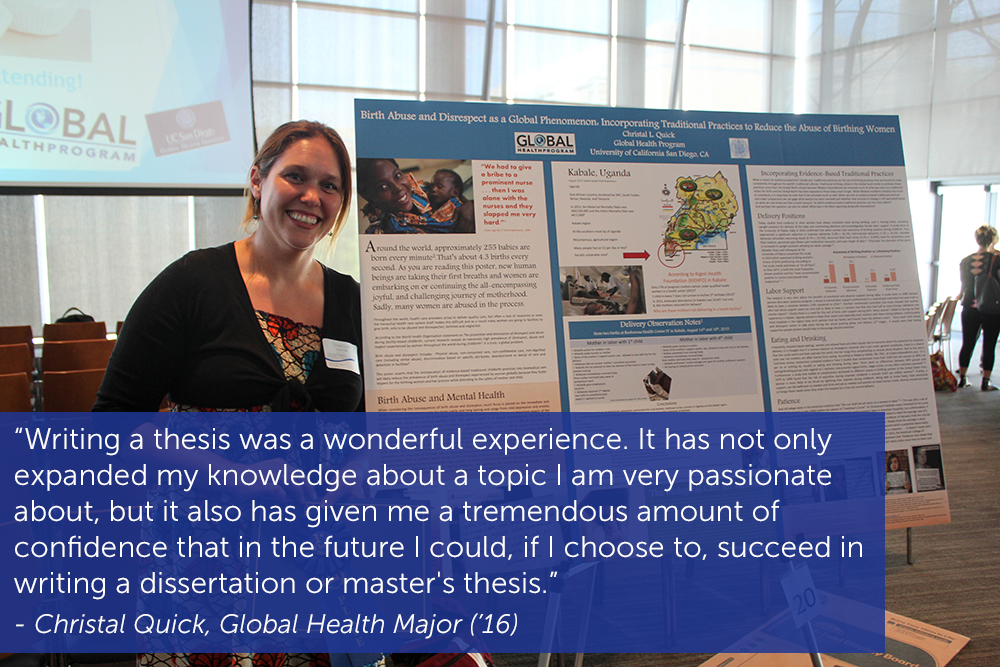 All graduating Global Health majors will participate in a two-quarter seminar and complete a senior thesis during senior year. This seminar will provide an opportunity to expand, deepen, and share the insights of your Global Health Field Experience or a topic of interest in the field of global health, with members of your cohort. The senior honors thesis in the field of global health marks an important academic accomplishment in a students undergraduate career and serves as a credential for postgraduate training and employment.
***Students must complete their Global Health Field Experience Requirement prior to enrollment. 
Winter Quarter:

GLBH 150A

. Global Health Capstone Seminar I will consist of intensive reading and discussion in fields related to each student's primary interest and building on your field experience. 
Spring Quarter:

GLBH 150B

. Global Health Capstone Seminar II will be a workshop with critical input from all participants focused on preparing a senior thesis that will provide an important credential for students in the next stage of their careers and as they prepare applications for graduate academic or professional training.
Thesis Resources
Research Poster Resources
Resources:
Logos for poster:
Oral Presentation
• Accompanies poster throughout duration of scheduled poster presentation time.
• Informs others of your work and research by engaging them in conversation about your poster.
• If asked, student's response is insightful, depicts obvious knowledge of topic, and contributes to the overall understanding of the research.
Visual Presentation
• Poster layout is in a logical pattern so that visitors can readily follow your presentation.
• Poster is visually attractive, readable from a distance of 3 feet away and includes many graphics and/charts.
• The information presented on the poster reflects the quality of your work.
Research
• Includes research components such as: Title, authors and institutional affiliations; Abstract, introduction, methods, results, and conclusions; acknowledgements and references.
• Poster communicates significance, relevance of results and is academically sound.
• Poster requires us to think beyond the results and to desire to explore the issue/s further.
Relevance to Global Health Issues
• Issue is current, appropriate and pertinent.
• Research and findings closely parallel or complement student's field experience or area of study.
Business casual attire recommended.
If you're unable to be there to set up, please leave your poster with a classmate or drop your poster off at the venue prior.
During the poster session, stand by your poster. Be prepared to provide a short elevator pitch or answer questions.
Posters should remain hanging during the keynote speaker presentation.
Please take a seat in a chair once the presentation begins.
Everyone should take their posters with them at the conclusion of the event. If you have to leave early, please make arrangements with a friend to take your poster.
Also see
FAQ's for the Poster Session.