All Global Health majors will participate in a field experience project at a research or clinical site either in the United States or abroad approved by either the Global Health Program Steering Committee, AIP, Career Services and for international placements, the UC San Diego Study Abroad Office. (For Global Health minors entering FA16 and onward, the Field Experience requirement is optional). 
The Global Health Field Experience will focus on issues relevant to global health, including health care, health education, environmental effects on health, infectious disease, mental health, health disparities, medical sequelae of natural disaster or political violence, indigenous healing practices, nutrition, and reproductive health.
Requirements
100 hours at a research, service, clinical or study abroad site.
May be domestic or international.
May be credit - bearing or non-credit bearing (such as volunteer work) and paid or unpaid.
Sudent may participate in up to 3 experiences to complete their hours. 
Students must review and complete all health and safety requirements prior to beginning at their site.
Upon completion of hours, students must submit verification. 
Timeline:
Global Health majors must complete their Field Experience Requirement prior to the beginning of Winter Quarter of their senior year (required to enroll in senior capstone course GLBH 150A & B).
Global Health minors must complete the requirement by the quarter they plan to graduate
How to Fulfill the Field Experience Requirement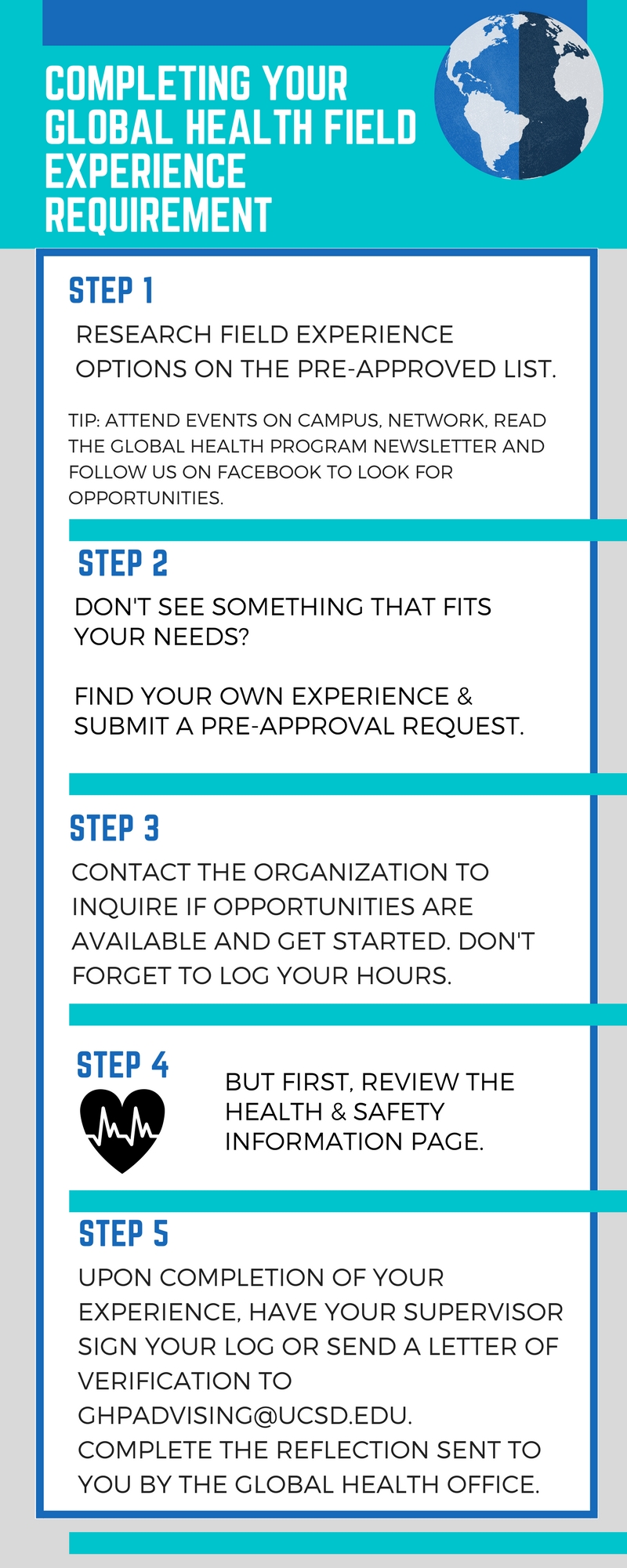 ---
Research Field Experience Options:
Create your own (details below), placement must be pre-approved before beginning at site.
Frequently Asked Questions
What counts towards hours:
Hours spent on site (not including travel time)
Orientations and meetings to prep 
Trainings & Outreach
Guidelines for Trackings Hours:
Keep a log of hours to be signed by site supervisor upon completion of hours

Additional Resources: