Student Advisory Committee
The Undergraduate Student Advisory Committee is charged to advise the Global Health Program on issues related to undergraduate education, including but not limited to courses, curriculum, instruction, student involvement opportunities, research opportunities and student programs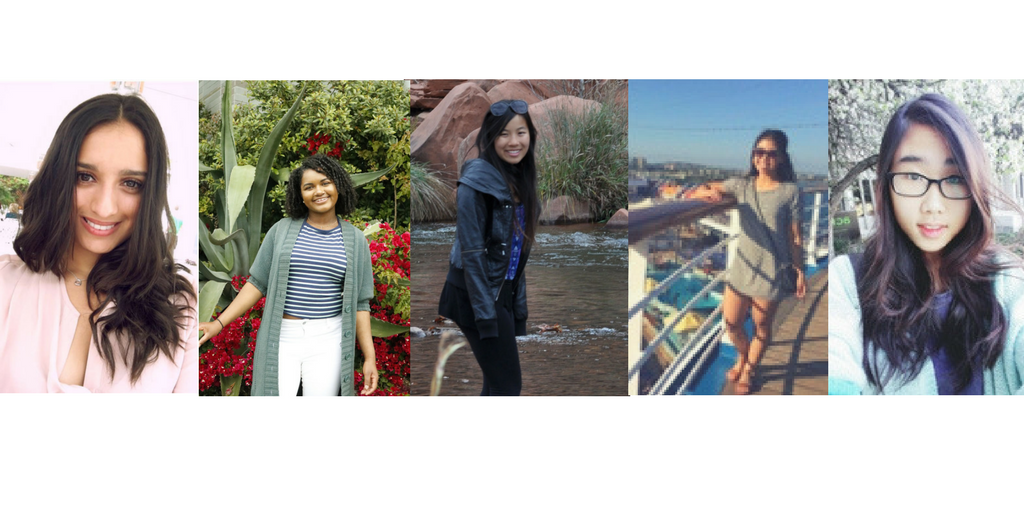 ---
Anahi is a Biochemistry and Cell Biology major and Global Health minor.

What Global Health Issues are you passionate about? 

Medicine in underserved areas

Random Fun Fact: I studied abroad in Thailand/Cambodia!

Alice ('18) is a Human BIology and Global Health Double Major, and the youngest member of the advisory commitee! Alice is also an international student from Canada with a vast array of hobbies including hiking, dancing, aerial skills and discovering new cultures through food and friends.

What Global Health Issues are you passionate about? Mental health, epidemics, healthcare in conflict zones, and preventative education and policy

Random Fun Fact: "I have a stuffed animal keychain (beaver) that I got from a hiking trip back home in Canada when I was young. He even has a maple leaf on his foot! I bring him with me on all of my adventures."

Cortni ('19) is a Global Health Major

What Global Health Issues are you passionate about? I am interested in policy, epidemics, infrastructure and equitable access to prevention and care.

Any goals for group for the year? Yes, I not only want more people to know about global health but to know why it is helpful and the many different routes they can take once they declare the major. I want them to know why the social aspect of health is just as important as the science part of it. And to get more people involved.

Field Experience: NA

Random Fun Fact: I love Beyonce and I would love to travel the world someday. Chance the Rapper also smiled and sang to me during his concert but I didn't capture a picture because I was so surprised.

Anh ('19) is a Global Health and Public Health Double Major, with a minor in Science, Technology and Society.

What Global Health Issues are you passionate about? I am very much interested in incorporating studies towards pragmatic health policies and solving health issues. More importantly, I ultimately look forward to contributing to leveling health disparity and serving marginalized groups, as well as generally approaching global health through a social justice perspective. As of now, my focus is exploring health through a critical gender studies perspective.

Field Experience: To be determined...

Random Fun Fact: I am desperately in love with diverse, speculative science fiction!

Kristiana ('18) is a Global Health Major and Urban Studies and Planning Minor.

What Global Health Issues are you passionate about? 

Health disparities within underrepresented populations, health and social justice matters, mental health, cultural competency, medical language barriers, and how the built environment affects people's health outcomes.

Field Experience:  During the Spring Breaks of 2016 and 2017, I went on a service immersion trip to Honduras through the Public Health Brigades organization to provide public health infrastructure and information to a designated impoverished community. We educated children, built hygiene stations, interacted with the community members and did so much more to help prevent the causes of disease within the community.

Random Fun Fact: I have a cat named Miyuki! 

Graduated GHP Reps

See your Global Health Student Reps Around Campus and at Events! Special thank you to all of our previous graduated GHP Reps!

---

2014-15: Jarrod Ekengren and Michelle Bulterys  ('15)

(Picture: Brittany Wright (advisor), Jarrod & Michelle, GHP Reps of 2014-15 @ The Student Services Fair!)

Jarrod Ekengren attended Colombia School of Public Health in Fall 2016 and received his Masters in Public Health.

Michelle Bulterys is currently a researcher at Stanford Medicine.

---

2015-16: Emma Jackson ('16)

 (Emma (left) with Dr. Saravia, participating in the Chile Field School)

Emma graduated with a Global Health Major and Biological Anthropology Minor with a passion for adventure, whether it be swimming in the ocean, hiking, stand up paddle boarding, watching the sunset or traveling the world. She is passionate about Maternal/Child Health, Mental Health, Socio-anthropological perspective on the health of diverse populations. Emma is attending Emory University in Fall 2018 and willl receive a Master's in Public Health in Global Health with a focus in sexual and reproductive health.

 

 

---

2016-17 Graduates:

Ashley Emuka and Yazmin Tenorio ('17)

Ashley graduated with a Global Health Major and International Studies Minor.  Ashley likes to blog and tweet about the latest social justice issues. Ashley is passionate about International health law and health disparities affecting marginalized communities. During the summer of 2015 Ashley went on an Alternative Breaks trip to Phnom Penh, Cambodia where she undertook direct service by caring for children with disabilities and underprivileged youth.

 

Yazmin graduated with a Global Health and Physiology & Neuroscience Double Major. When she is not head first in a book she enjoys surfing, boxing, running and travelling! Yazmin is most passionate about Mental Health, Refugee & Immigrant Health, Food Insecurity, and Water Safety. During the summer of 2015 she went with UCSD Global Seminars to Amman, Jordan to complete her field experience.

---

2017-18 Graduates:

 

Kristiana Cuevas

Alice Lu

Anahi Ibarra

What it means to be a Student Rep

Qualifications:
1.      Must be a UC San Diego undergraduate
2.      Must be a UC Global Health Major or Minor (declared or plan to be)
3.      Must have 2.5 GPA
4.      Preferred 2 Year Term (or longer)

Goals of the GHP Student Reps:
•       Promote Global Health Program and activities on campus
•       Enhance the Global Health Community at UC San Diego
•       Improve access and opportunities for Global Health Students
•       Connect with Global Health Student Body

We meet 1-2 times per quarter and represent the Global Health programs at events such as Triton Day and Welcome Week! We also work on Global Health spotlights for the blog and are involved in program event planning.

Applications are sent out during Spring Quarter for the following academic year.