Global Health Study Abroad Requirements
Global Health students may study abroad while earning academic credit, however it is not required for the major or minor. Students can also participate in pre-approved Study Abroad programs to fulfill the Global Health Field Experience Requirement.
All courses applied towards Global Health requirements must be taken for a letter grade of C- or better and be at least 4.0 units. 
A maximum of six courses can be petitioned for credit toward the major.
A maximum of two courses can be petitioned for credit toward the minor.
 *Study Abroad programs used to fulfill the Field Experience requirement must have a field work component. Not all study abroad opportunities will fulfill this requirement.
Students should request pre-approval for courses not listed below. Upon return and once the grades appear on your academic transcript, please submit a petition request to have the courses fulfill Global Health requirements. 
---
Resources for finding and researching opportunities:
Revew previously accepted coursework to see where other GH students have gone below.
---
For Study Abroad Advising, including international field experience, visit First Steps to get started or schedule an appointment with Global Health Field Experience Advisors:

If you're planning to Study Abroad, begin planning far in advance. 
Global Health students should not plan to study abroad during Winter and Spring of their senior year, as you will need to enrolled in the senior capstone courses.
Here is the recommended timeline:
Once you have selected a Study Abroad Program you will want to get pre-approval for coursework you plan to count towards your Global Health requirements.
Forms:
If your courses are pre-approved, a note will be stored in your student file. When you return from Study Abroad you will want to wait until the coursework appears on your transcript. Once it does, you can submit a petition to have the coursework officially count towards your degree requirement. See instructions below on submitting a petition.
You will be notified via the Virtual Advising Center once your request has been reviewed (please allow 2 weeks before contacting advisor).
Wait until the course and grade has posted to your academic history. 
Upon completion of the course submit one of the following petitions:
Submit an Online Petition Request or
Submit an Undergraduate Student Petition (paper form)
Include the course # (as it appears on TritonLink), course title, # of units, grade received, quarter/semester the course was taken, the University in which you were enrolled and specify the requirement you want to apply the course toward (e.g. Fulfill Global Health Major Elective Requirement). Please also sign and date the petition.
Submit completed petition(s) & syllabus to the Global Health Advisor (The paper form can be scanned and sent via email (ghpadvising@ucsd.edu) or dropped off in the GHP Office). 
You will be notified via the Virtual Advising Center once your request has been reviewed (please allow 2 weeks before contacting advisor). 
The Study Abroad Office has many great resources, including a database on MyPAO that will help you find relevant scholarships for study abroad, including many that are unique to our campus. You can search the database using a number of filters to find those awards that best fit your plans.
Don't forget to also check out other funding options through the Study Abroad Office.
UCEAP Promise Awards Scholarship
Education abroad is an investment in your academic, professional, and personal future, and UCEAP wants to help you afford this tremendous opportunity. They offer dozens of scholarships—over $1.5 million for 2015-16—for students of all backgrounds and majors, and for all kinds of study abroad programs.
This website features detailed descriptions of hundreds of study abroad scholarships, fellowships, grants, and paid internships for U.S. undergraduate, graduate and post-graduate students, and professionals.
Global Health Institute Field Experience Grant
Up to $2,000 for students who are studying abroad and completing their field experience. Up to $2,000. Applications period announced in Winter Quarter.
Most colleges also offer opportunities for students to apply for study abroad scholarships.
Coursework Abroad
The following courses have been accepted for Global Health Major and Minor requirements. For courses not on the pre-approved list, please submit a 
Study Abroad Course pre-approval request
.
Africa
University
Courses
Requirements
University of Botswana
PUBH 3002. Community Health Practicum Requirement: Field Experience
Minor Elective
PUBH 3001. Public and Environmental Health Issues in Botswana
Minor Elective
BNS203. Basic Nursing Concepts and Skills in Health Sciences
Minor Elective
ENH313. Basic Toxicology
Minor Elective
POP404. Gender Reproductive Health and Development
Minor Elective
BNS209. HIV/AIDS Education, Prevention and control in Botswana
Minor Elective
BIO223. Parasitology for Health Sciences
Minor Elective
SOC234. Social Problems in Southern Africa
Global Processes Elective (majors only)
SOCI105. Birth. Death. Migration
Minor Elective
University of Ghana
AFST 192A. Effects of AIDS in Gender Inequality
Minor Elective
NUTR 307. Basic Nutrition
Biological Science Elective

GSPH 405 - Introduction to Gender and Healthcare

Medical Social Science Elective
GEOG 473. Medical Geography
Minor Elective
Asia
University
Courses
Requirements
University of Hong Kong
Health Sciences 12. Contagions: Global Histories of Disease
HILD 30 (major and minor core course)
GEOL 106. Cross Boundary Movement and Social Integration
Minor Elective
LIFS 1020. Biology of Human Health
Biological Sciences Elective
Public Health, Thammasat University (possible FE opportunities)
GH392. Geopolitical Realities in Populations in Transition, Mobility & Border Health Summer Program
Medical Social Science Elective or Minor Elective
GH391. Health Realities in Border Populations, Mobility & Border Health Summer Program
Medical Social Science Elective or Minor Elective
PI345. Disaster and Emergency Management
Policy Analysis Requirement or Global Processes Elective (majors only)
P0380. Economics and International Politics
Global Processes Elective (majors only)
PI399. Global Political Economy of Trade and Finance
Global Processes Elective (majors only)
PI482. Seminar: Globalization, Regional Grouping and State
Global Processes Elective (majors only)
PI340. Public Policy and Management in the Global Context
Global Processes Elective (majors only)
National Taiwan University
HLTH 107. Essentials of Global Health
Minor Elective
National University of Singapore
SPH2102. Lifestyle, Behaviour and Public Health
Minor Elective
SPH2106. Health in the Later Years
Minor Elective
Europe
Latin America
Oceania
University
Courses
Requirements
Solomon Islands National University (SINU) : Pacific Island Environmental & Community Health–Australia & Solomon Islands
ASIP001. Global to Local Environment and Health Issues Requirement
Medical Social Science or Medical Humanities Electives
ASIP002. Methods in Environmental Health and Science Requirement
Medical Humanities Elective
ASIP003. South Pacific Culture and History
Global Processes Elective (majors only)
ASIP004. Solomon Islands Community Health – Resilience and Sustainability
Medical Social Science or Medical Humanities Electives
Victoria University of Wellington, New Zealand
BMSC 117. The Biology of Disease
Biological Science Elective
SOC 217. Special Topic: Reflecting on Violence: Contexts, Ethics and Intervention
Policy Analysis Requirement (majors only)
INTP 247. International Relations:Wealth and World Affairs
Global Processes Elective (majors only)
University of Melbourne

MIIM 30014. Medical Microbiology: Virology



Minor Elective
Global Seminars are offered in Summer. Each program is five weeks long, and upon completion, students will receive two course credits for a total of eight quarter units.
Applications accepted on a first-come, first-serve basis from November 1 through March 1.
Academic credits earned are UC units and will factor in to your UC GPA
Note: Not all Global Seminars count towards Field Experience Credit.
---
***New for 2017!***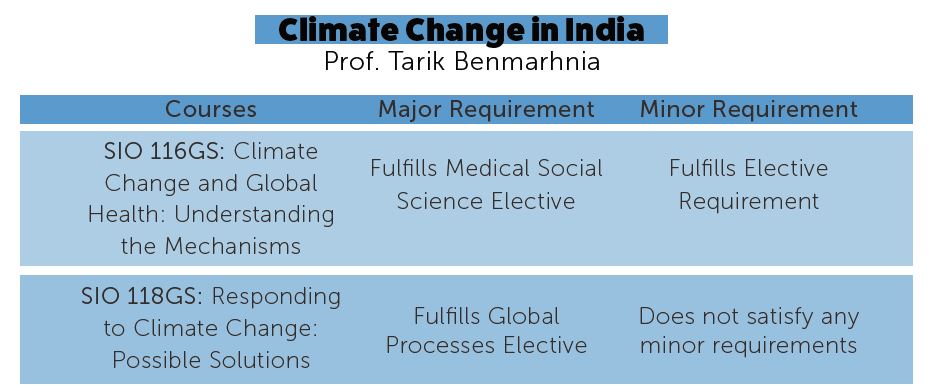 Global Seminar

Course 

Requirement

Migration and Globalization in Mexico 

New for 2017!

SOCI 125 GS Sociology of Migration

SOCI 185 GS Globalization and Social Development

Global Processes Elective (majors only)

Global Processes Elective(majors only)

*only one of these two courses accepted

Social Cognition and Drugs in Australia

New for 2017!

COGS 171 GS Mirror Neuron System and Social Cognition 

COGS 174 GS  Brain, Mind and Culture

Biological Sciences Elective

Medical Social Sciences Elective 

Drugs, Behavior, and the History of Neuroscience in Greece

PSYC 181 GS Drugs and Behavior

PSYC 193 GS  Neuroscience, Psychology, and Pharmacology of Antiquity

Medical Social Science Elective 

Medical Social Science Elective

*Does not fulfill field experience requirement

Culture, Language, and Child Development in Ecuador 

EDS 115 GS Cognitive Development and Education

EDS 117 GS Language, Culture and Education 

Medical Social Science Elective (EDS 115 GS)

Medical Humanties Elective (EDS 117) 

Public Health in Amman, Jordan

(not offered summer 2017)

REV 160 GS Public Health and Epidemiology I

REV165 GS Public Health and Epidemiology II

Biological Sciences Elective

Fulfills: Major and Minor Field Experience Requirement

Social Cognition and Drugs in Parma, Italy

 

COGS 171 GS Mirror Neuron System and Social Cognition 

COGS 174 GS Brain, Mind and Culture 

 

Biological Sciences Elective

Medical Social Science Elective 

*Does not fulfill field experience requirement

Latin American Society and Politics, Argentina 

SOCI 148 GS Political Sociology

SOCI 185 GS Globalization and Social Development

Global Processes Elective (majors only) 

*only one of these two courses accepted 

Roma, Gypsies, and Gitanos: Language, History, and Culture 

 LIGN 157 GS

Global Processes Elective (majors only)

*only one of these two courses accepted

Medical Anthropology and Global Health in South Asia

ANSC 190 GS Medicine and Healing in South Asia

ANSC 191 GS Everyday Life in South Asia

Medical Social Sciences Elective

*Field Experience Requirement

Climate Change in India

SIO 116 GS Climate Change and Global Health: Understanding the Mechanisms

SIO 118 GS Responding to Climate Change: Possible Solutions

Medical Social Sciences Elective and Field Experience Requirement

Global Processes Elective (major only)

Development, Human Rights, and Environmental Justice in India

ANSC 192 GS Rethinking Development

ANSC 193 GS Human Rights and Environmental Justice

Global Processes Elective (majors only); Fulfills Field Experience Requirement

Fulfills Global Processes Elective (majors only)

*only one of these two courses accepted
University

 Courses
 Requirements

(Veritas University)

HIS 3293. Costa Rican Healthcare 

PSY 2200. Health Psychology 

HHD 3070. Conflict Resolution and Health Care

HHD 1050. Alternative Health Approaches

Minor Elective

Minor Elective

Minor Elective

Minor Elective 

IHP: Health and Community: Globalization, Culture, and Care (India, South Africa, Brazil)

Health, Culture, and Community

Globalization and Health

Public Health: From Biology to Policy

Community Health Research Methods

Medical Social Science Elective

Global Processes or Policy Analysis Electives (majors only)

Global Processes Elective (majors only)

Field Experience Requirement and Medical Social Science Elective

Community Health & Traditional Chinese Medicine

Field Experience Requirement and Medical Social Science Elective