The following organizations and special programs have been pre-approved for students to work with to complete their Global Health Field Experience Requirement. Students can choose pre-approved programs listed below and make contact or they may do their own research and find an experience. 
Pre-Approved Field Experience Opportunities:
Additional Global Health Field Experience Resources:
---
International Study Abroad Field Experience Opportunities
The following organizations and study abroad programs have been pre-approved for Global Health students looking to complete international field experience and/or study abroad coursework. Students can choose pre-approved programs listed below or do their own research and find their own experiences. 
Please note: A program must have a field work component to count towards the Global Health Field Experience Requirement. Some programs offer opportunities to fulfill the field experience requirement and receive course credit, while others may only offer non-credit bearing field experience options.
Pre-approval is required before beginning your international experience with a program not listed below.  
Review the Global Health Study Abroad page to see what coursework has been pre-approved. To petition Study Abroad coursework not already pre-approved, please submit a petition here prior to your departure.

For Study Abroad Advising, visit First Steps to get started or schedule an appointment with Global Health Field Experience Advisors:
---
UC/UCEAP Programs
UC system-wide programs
Students receive UC credit that factors into your UC GPA.
UC San Diego students can use all forms of financial aid and/or scholarships.
Global Health students who study abroad are encouraged to engage in volunteer, internship or research opportunities to fulfill the Global Health Field Experience. Study Abroad does not guarantee you have fulfilled your field experience requirement unless indicated. Some study abroad programs build these experiences into the program and curriculum. 
Programs in English that fulfill the 100 hour field experience requirement:
| | | | | |
| --- | --- | --- | --- | --- |
| Country | Program | Language of Instruction | Terms | Notes |
| Botswana | | English | Fall | Choose the community public health track. Includes an internship in local health clinic |
| Ghana | | English | Summer | Specialized track in contemporary public health in Ghana |
| Israel | | English | Fall, Spring, Year | Global Health Track offered in Spring |
| Thailand | Public Health, Thammasat University (Bangkok) | English | Summer | Summer program provides in-class instruction and field-based learning about community studies, public health and population mobility.  |
Programs in a foreign language that fulfill the 100 hour field experience requirement:
Country

Program

Language of Instruction

Terms

Notes

Dominican Republic

Spanish

Summer

Includes health practicum and clinical rotation

Mexico

Spanish

Spring

Opportunity to work in local NGO's in Oaxaca

Spanish

Fall

Opportunity to conduct field research in Mexico City, Yucatan, Chiapas, Oaxaca or Querétaro.
Global Seminars are offered in Summer. Each program is five weeks long, and upon completion, students will receive two course credits for a total of eight quarter units.
The Application deadline for the upcoming summer for most Global Seminars is March.
Academic credits earned are UC units and will factor in to your UC GPA
Scholarships available.
See additional information on pre-approved Global Seminar courses here. 
Spend your summer in Peru, an incredibly rich country in terms of history, archeology, as well as cultural and ecological diversity. This program helps students reach a better understanding of how diversities and disparities in people and places impact human health, using Peru as a case study.This unique opportunity provides first-hand experience in the global health field with various visits to local hospitals, health NGO's, as well as trips outside of Lima to Iquitos, Peru.  
This program is run through the UCLA International Institute and the UCLA David Geffen School of Medicine (DGSOM), with support from the UCLA Latin American Institute and the Universidad Peruana Cayetano Heredia. 
Coursework:
GLB HLT 110A. Global Health in Practice (Major: Medical Social Science Elective/ Minor: Elective)

GLB HLT 110B. Diversities and Disparities: The Case of Peru (Major: Medical Social Science Elective/ Minor: Elective)
UC Program Fee $5,500
---
UC Davis Quarter Abroad (Fall Quarter) - Latino/a Health Internship Program in Oaxaca
Offers students the opportunity to take UC Davis classes on transnational health issues and participate in internships in hospitals and clinics in Oaxaca, Mexico. Also designed to provide in-depth clinical experience that will lead to greater Spanish fluency
UC Davis Summer Internships Abroad
Internships provide students with the opportunity to gain hands-on experience in diverse fields at locations around the globe. 
Examples of Global Health opportunities: 
Bolivia—Pediatric Health in La Paz
Bolivia—Primary Care & Rural Medicine in Tarija
India—Public Health & Rural/Urban Medicine
South Africa—Healthcare Challenges in Cape Town
South Africa—Hospital Medicine & Infectious Disease In Durban
Philippines—Remote Island Medicine
Non-Credit Bearing Opportunities
CFHI is a global family of health professionals and students working at the grassroots level. They provide community-based Global Health Education programs (internships, clinical electives, away rotations, externships) for health science students. Programs connect local health professionals with students transforming perspectives about self, global health, and healing.
2-16 week non credit-bearing Global Health Immersions Programs available
20+ programs in 9 countries
Programs in English and Spanish
Some programs include lessons in intensive medical Spanish (beginner through intermediate level)
Price Range: Depends on specific program and duration, ~$2290-2835 for month long program

Scholarships available
Over 50% of student program fees are invested in host communities
Interested in learning more about CFHI Programs? See what other Global Health students have said about their experiences:
Medical volunteer opportunities in developing countries
non credit-bearing - volunteer experience
Placements available range from hospitals, rural field clinics, home visits, nutrition, health education and public health research in all fields of health and medicine
Examples of duties: providing hands-on care to patients, working in a community educating people on how to stay healthy and prevent the spread of disease, or working in a lab conducting vital research
Programs will differ in price, duration, and location
Example: Global Health Placement in Rural Nepal

Medical students can gain valuable insight by shadowing experienced staff, discussing diagnosis and treatment and providing an extra pair of hands where you have the relevant training and experience under the watchful eye of a local health professional
Duration: 2-26 weeks
Price: $1,514 for two weeks
Mon-Fri 6-8 hours per day

For more information, visit

 

Kaya Volunteer
Linguistic Horizons fosters globalization and foreign language learning through immersive study abroad and internship abroad programs.
Destination: Sacred Valley of the Incas, PERU
Customized International Field Work Experience for Global Health Students.
Unite For Sight offers a global health volunteer abroad experience in our high quality healthcare delivery programs. Participants come from diverse backgrounds and have a variety of interests in public health, medicine, international development, social entrepreneurship, and the social sciences. They support and learn from the partner clinics' talented medical professionals who are social entrepreneurs addressing complex global health issues.
Locations of Year-Round Health Care Delivery: Ghana, Honduras, and India (volunteer for 7 days, 15 days, 20 days, 4 weeks, 6 weeks, 8 weeks, 10 weeks, or more)
Fellows support, assist, and learn from Unite For Sight's talented local partner doctors who have provided care to more than 2.2 million patients living in poverty during the past decade, including 95,000 sight-restoring surgeries.
Atlantis  is a non-credit bearing 1 to 10-week shadowing program with programs in Greece, Hungary, Italy, Lithuania, Spain, Portugal, Ecuador and Uruguay, United Kingdom, Croatia, Germany, Malta, Panama and Chile. Thisprogram is designed to help prepare students for healthcare fields by providing shadowing experiences
25 hours of shadowing per week and it is 

strictly observational

Summer Session: 2-10 weeks
Winter Session: 1, 2, or 3 weeks
March Session: 1 week
Price Range: ~$1,100-$3,480 (depending on duration)Program Fees do not include $500 registration fee
CISG offers specialized practicum opportunities for students interested in global health. Students will be placed in a practicum site that aligns with their personal interests. Students may choose from the following practicum sites.
*Intermediate Spanish Speaking Level Required
CISG Practicum Programs are designed to develop experiential and contextual skills of collaborative interdisciplinary work in real-life situations related to the field of global health. Practicum programs are designed to meet students' program competencies and personal/career interests. Participants will work alongside CISG local partners and local populations as part of their practicum in Costa Rica. Participants will be able to explore the inherent challenges towards health equity and sustainable development while participating in efforts to improve the overall well-being of the communities they work with. An essential part of this undertaking is to rely on the proper support to accomplish a comprehensive reflective process. CISG provides such support through an extensive team of local supervisors distributed among several local organizations and institutions, in addition to our in-house preceptors. Both parties are in charge of monitoring the participants' progress towards desired goals. 
OAP Study Abroad Opportunities (Credit-bearing)
Study abroad with UCSD affiliated program partners, other US Institutions or universities abroad.
Eligible for Federal or State Aid Only.
Academic credits earned will be posted to your UCSD academic history as transfer units and do not factor.
AIFS Abroad offers Global Health sites in: Barcelona, Spain (Spring Semester) or Costa Rica (Summer)  
No previous knowledge of Spanish language required

Minimum 2.6 GPA
**Program fee includes tuition, housing, meals, excursions and cultural activities, and day trips. See Scholarships.
Global and Public Health at Manipal University in India
As part of their coursework, students have the opportunity to visit local health clinics to understand health promotion, infectious disease treatment and prevention, and traditional contemporary medical practice
Fieldwork: Opportunity to pursue directed research as an elective; students are paired with a faculty member appropriate to their academic area of interest, such as public health.  Students are expected to produce a formal research paper
Courses: 1 core course in Contemporary Indian Culture required; 4 Public Health and/or Indian Study electives
Fall/SpringSemesters OR Academic year
Price Range: ~$16,800/semester
UC San Diego students can use state and federal financial aid and scholarships (not UC aid)
The Alliance encourages students to enroll for more than one term and to consider studying with more than one Alliance program. Students who continue into a second or third term with the Alliance receive a $500 discount on the program fee for this subsequent term.
Academic Programs International (API) is an educational organization dedicated to providing challenging and enriching study abroad programs for our students since 1997.  All of our academic and extracurricular offerings are selected with the goal of helping students grow more self-aware and culturally sensitive.  API is committed to providing the best comprehensive study abroad experience possible with personal attention available to our students throughout his or her program, and to working closely with home universities to offer support before, during, and after the education abroad experience.
Summer Program Application Deadlines: March
The Global Health Semester is an innovative study abroad opportunity that combines classes with onsite learning - including 100 hours of for-credit fieldwork - in a variety of medical settings, including potential options such as a clinic in a Bedouin town, a large Israeli hospital, an STD prevention program, and an open clinic for migrant workers and refugees in Tel Aviv. This course would require students to study abroad during Winter and Spring. Special UCSD discounts apply.
Semester Track (Only Spring) in Global Health
Required Course: Health in the Age of Globalization
Courses offered previous years: Altruism and Trade: The Globalization of Transplant Medicine, Eco-Health, The Disease that Changed the World: Infectious Diseases from a Global Health Perspective, etc.
Students are required to enroll in four courses, in addition to a mandatory Hebrew language course at the beginning of the semester  All courses taught in English
The Global Health track at BGU provides students with a comprehensive learning experience that combines classes with guided tours to places that actually practice or demonstrate aspects of Global Health. Among the planned tours are visits to a variety of medical settings: from a clinic in a Bedouin town, to a large Israeli hospital, to an STD prevention program, to an open clinic for migrant workers and refugees in Tel Aviv.
Price Range: $10,600
UC San Diego students may take federal and state financial aid and scholarships; scholarships are available through the Ginsberg Ingerman Oversees Student Program
Deadline to apply: Apply by Fall (~October) for Spring semester
Global Health International Summer Program at Ben-Gurion University in Israel
4-week summer program
The Program Entails 6 credit courses
Self-study, professional field trips, exercises and small-groups mentoring in the following key areas: public health, globalization, and development
Students will participate in a one week on-site Practicum. Students will be divided between a verity of clinics and organizations dealing with Migrant Health, Mental and Psychosocial Health and Eco-Health
Price Range: ~$1,585
Deadline to apply:  February for Summer Programs
For more information, visit Ben-Gurion Study Abroad.
The College of Global Studies
 of Arcadia University is one of the largest and most respected campus study abroad programs in the nation. The College serves students from Arcadia University and more than 300 U.S. colleges and universities and offers semester, year and summer programs and more.
Internships in Global Health are available through CAPA International Education every fall, spring, and summer in London and Sydney. These programs run for fourteen weeks in the fall and spring and six weeks in the summer.
Because CAPA works on a semester schedule, UC San Diego students can generally only enroll in the fall session(early September to mid-December) or the second summer session (early July to mid-August). Students enrolling in the fall can receive up to six credits from the University of Minnesota for their placement; summer students will receive three credits. In both scenarios students intern about twenty hours per week. To receive credits the students will need to take the "London through Internships" or "Sydney through Internships" course. The syllabi for these courses can be found on their website.
The CAPA Programs in London and Sydney include accommodation, meals or meal stipend, public transportation pass, arrival and departure events, in-country orientation, and medical and travel insurance. There is an on-site Resident Director who overseas health and safety, and the RD and his or her team are on-call 24-hours a day.
CIEE's mission is one shared by many in international education: "to help people gain understanding, acquire knowledge, and develop skills for living in a globally interdependent and culturally diverse world." To fulfill that mission, CIEE provides both outbound international education experiences for university students, faculty, and administrators, and study, work, and internship opportunities for people coming into the U.S.
Service Learning Programs (fulfill FE requirement and offer course credit): 
Cape Town, South Africa, Dominican Republic and Dublin, Ireland
Students should contact CIEE to ensure program can provide field work in health for semester they are applying. 
Public Health Programs:  Botswana- Community Public Health Program & Thailand- Public Health Program
See scholarship information.

Most CIEE programs have some form of volunteer opportunities available to participants.  If a student is interested in a specific program, they can email CIEE to determine whether or not volunteer opportunities in the health sector exist at that site and if 100 hours could be obtained.  Students would have to self-report and be committed as CIEE would not be able to monitor volunteer projects.
CISabroad offers study and intern opportunities in over 20 different countries. As an organization, we strive to provide students with an experience that best suits their needs. Let us help you find your next adventure! 
Opportunity to gain unique pre-medical experience by learning from Swedish medical doctors and getting an insider's view of the workings of hospitals, clinics, and medical research, as well as insight into clinical practices and healthcare in Europe.

Location: Stockholm, Sweden

Language of Instruction: English

Courses: 1 core course in Translational Medicine: From Bench to Bedside (3 credits)

Prerequisites: 1 year of Biology and 1 year of Chemistry at university level

Fall/Spring Semesters

For more information, visit Studies Abroad-Stockholm, Sweden 
For more information visit: IES Abroad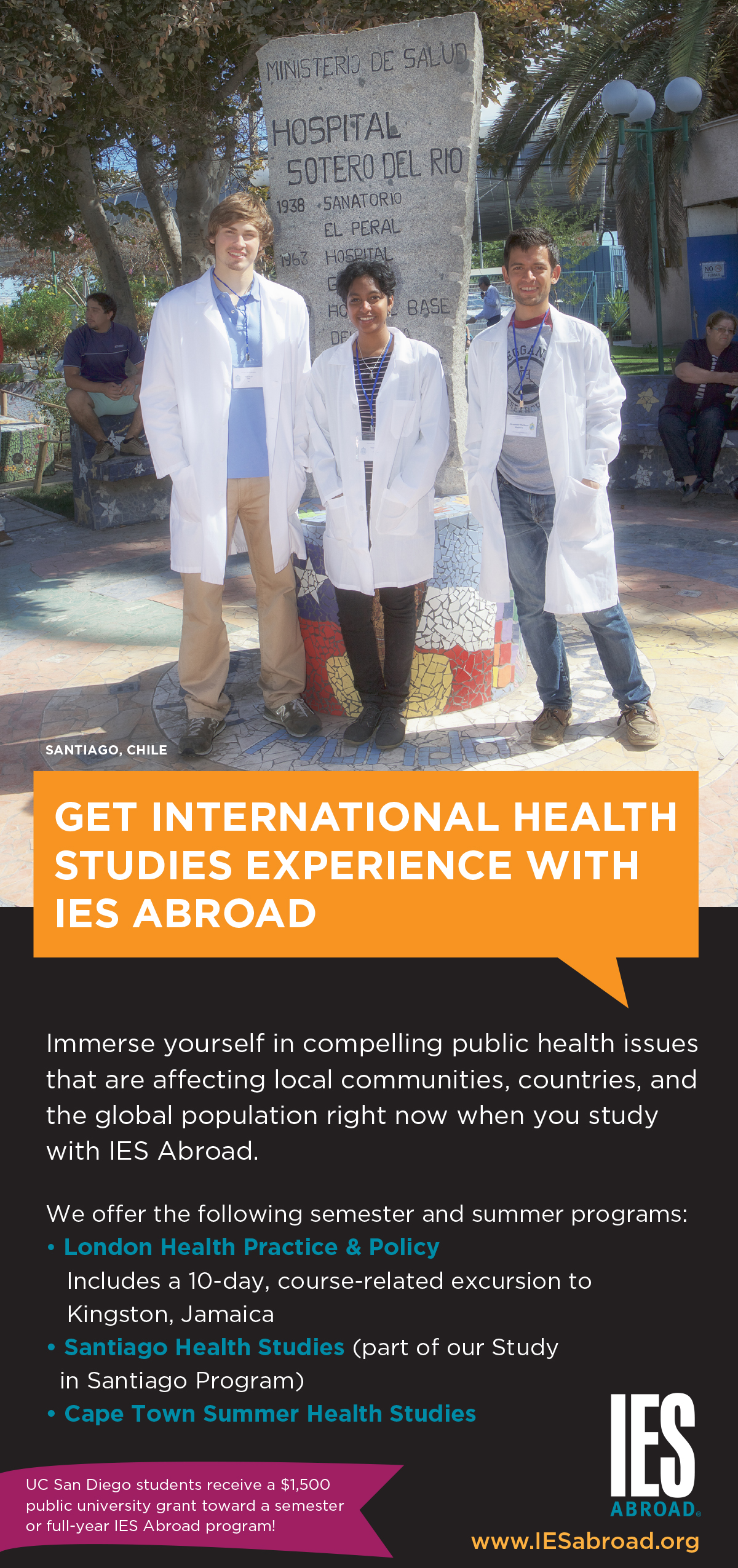 Traditional study abroad program with the option to participate in an add-on field experience (internship or service-learning opportunity)

Offers supervised internships in the Public Health field that earn IES Abroad credit.

Service-learning placement may include organizations focusing on Community Health

Offers a Health Studies Seminar with two tracks: Clinical Observation or Community Health and Spanish for Healthcare Professionals.

Location: Santiago, Chile

Courses: 5-6 per semester (15-19 credits)

Language of Instruction: Spanish

Prerequisites: 4 semesters of college-level Spanish

Fall Semester (July-December) Spring Semester (February-July)

Price Range ~$15,000/Semester
International Studies Abroad (ISA) + Internships and Service-Learning (credit-bearing and non credit-bearing)
Traditional study abroad program with the option to participate in an add-on field experience (internship or service-learning opportunity)
* Note: Must apply for Service-Learning placement and Global Career Building Internships (cover letters, resumes, personal statements, etc. may be taken into consideration)
The internship or service-learning component can also be done as a stand-alone program without being attached to the traditional study abroad program

Global Health students must look for study abroad programs that offer service-learning placements and internships relating to health professions on ISA website or Internships & Service Learning brochure from the Study Abroad Office.

Programs in English and other languages
Price Range: Depends on specific program and duration, see example below
Example of a program related to health profession:Can use state and federal financial aid and scholarships (not UC aid); UC San Diego Students can apply for a special pool of scholarship money

Language, Literature, and Culture + Service-Learning at the University of Salamanca in Cusco, Peru(offered SP/FL)à Service-Learning options: Dental Clinics, Medical Clinics, Pharmacy Clinic
Course Example:

 

Sustainable Development in the Peruvian Andes
Price:

 

$12,300
SIT Study Abroad offers programs in Africa, Asia and the Pacific, Europe, Latin America, the Middle East, and comparative programs in multiple locations.
Rigorous academic programs through a field-based, experiential approach
Undergraduate research through an Independent Study Project (40-50 pg. research paper)
Offers fieldwork, language classes, and urban and rural homestays with local families
Every program is framed around a critical global issue
Semester programs last 15–16 weeks and summer programs last 4–9 weeks
Programs have 20–25 students led by one academic director plus a number of local staff
Most programs taught in English; some taught in Spanish; students learn local language to conduct research
Price Range: ~$18,000 (varies on location and duration)
Can use state and federal financial aid and scholarships (no UC aid); UC San Diego Students can receive up to $5000 in scholarships
Check back frequently for more listings!
Additional Resources
Use the UCSD REAL Portal to search for internship opportunities. If the opportunity is not with a pre-approved site, submit a pre-approval request.
Students can also find internships in PortTriton.
Please see
Special Studies
page. Students must have a UC San Diego Faculty Advisor.
*Trips that will count towards Field Experience hours must contain Global Health content.